Music of Bach and Vivaldi
Led by Shannon Merlino
Wednesday, November 14th
12:00pm – 12:50pm
Paley Library Lecture Hall
Light refreshments served. Boyer recital credit given.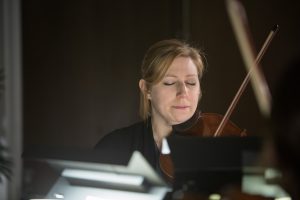 Violinist and violist Shannon Merlino, a Philadelphia native, describes the theme of this recital as revisiting Baroque violin music that is most often used for pedagogical purposes for students first learning to play violin. Merlino references Itzhak Perlman's album Concertos from my Childhood. That album consists of the famous virtuoso violinist's performances of didactic pieces composed for violin students.
There are many pieces that were originally composed to be teaching tools or most commonly used as such, but that still can be captivating as concert pieces. I have my own experience of this, having taken my first piano lessons as a college student, in which I learned to play several of J.S. Bach's 2-part inventions and Bartok's Mikrokosmos, works written for students. Having already studied music theory certainly made my interpretation of these pieces different than they would have been if I had learned them as a child. Still, my interpretations were limited by my technical skill. These pieces have all been recorded by esteemed professionals, who bring new interpretations. While originally for pedagogical purposes, these works continue to attract the attention of scholars in the 21st century for non-pedagogical reasons (see, for example, Väisälä 2009; Hajdu 2008).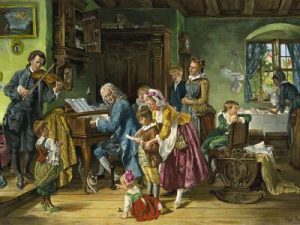 None of this is to belittle the joy that children and their families and friends can feel from learning these pieces their own way, even if their interpretations are often less nuanced. On some level, one can argue that these pieces should not require such nuance. Unlike a typical classical concert, a youth recital is more about celebrating the performer than it is about the composer. And much music written for students is not intended for performance at all, but rather as a means for one to practice a specific skill.
But it is another matter the repertoire for this recital, which will consist of Baroque music which was intended to have specific performance practice that is not often followed when students learn the music today. Merlino notes that "beginning players learn Baroque music, and without performance practice – ornamentation, continuo, and the like – the repertoire is relegated to "didactic" status." In the Baroque era, musicians were often expected to add their own embellishments, such as trills or other flourishes (Although some, such as Couperin who was featured in a Beyond the Notes concert earlier this season, did provide their own.) So when children learn to play violin by using these pieces without such embellishments, not only is there less complex interpretation, there are fewer notes. In this program, we can expect to hear these pieces performed with a more historically informed practice, which should make them especially exciting.
Revisiting music from our childhood is not just for musicians. Most of us have music that was meaningful to us as children, that we feel as if we have grown out of, but is still part of who we are. There is some Baroque music, such as Vivaldi's The Four Seasons, which most likely many listeners would have grown up hearing, if only from commercials or soundtracks, whether or not they learned to play an instrument. There is still much to gained from taking it seriously the soundtracks of our childhoods and listening in more closely.
Children's music itself has so far received somewhat limited attention from musicologists and music theorists. This may be changing, however. In fact, there is an effort is currently underway to start a Childhood and Youth Studies Study Group within the American Musicological Society. It seems then, that this concert is coming at the perfect time!
Bios:
Born and raised in the greater Philadelphia area, Shannon Merlino began violin studies at the age of nine, earning her Bachelor of Music degree in Violin Performance at Rutgers University as a student of Matthew Reichert and Lenuta Ciulei. She continued her violin studies as a scholarship student at Mannes College, earning a Master of Music degree while studying with Lewis Kaplan. Finally she completed doctoral coursework under Mikhail Kopelman at Rutgers University. After making the decision to focus primarily on viola, she began private studies with Kerri Ryan and is now in doctoral studies at Temple University. Her competition awards include second place in both the Miami String Quartet and South Orange Symphony competitions, and her solo credits include several appearances with the Lustig Dance Company. She has appeared in recitals as both soloist and chamber musician throughout the New York City metropolitan area, and maintains an active freelance performance career in the Philadelphia area as both modern and Baroque violist. Ms. Merlino has also given pre-concert talks on viola technique and pedagogy, most notably at the Library of Congress. Ms. Merlino performs on a viola by Clifford Hoing and a bow by Malcolm Taylor of W. E. Hill and Sons.
References:
Hajdu, Andre. "A Galaxy Called 'Mikrokosmos': A Composer's View." Tempo 62, no. 243 (2008): 16-35. http://www.jstor.org/stable/40072752.
Väisälä, Olli. "Bach's Inventions: Figuration, Register, Structure, and the "Clear Way to Develop Inventions Properly"." Music Theory Spectrum 31, no. 1 (2009): 101-52. doi:10.1525/mts.2009.31.1.101.
Ben Safran is a Ph.D. candidate in music at Temple University, where his dissertation focuses on contemporary classical composers' uses of social justice and political themes within concert music. His compositions have been performed by various ensembles and musicians across the United States