Dr. Anna R. Moore, Principal Investigator
          B.S. in Biology, James Madison University
          Ph.D. in Neuroscience, UCONN Health
          Postdoc, Brandeis University (Advisor: Suzanne Paradis)
"We must have perseverance and above all confidence in ourselves. We must believe that we are gifted for something and that this thing must be attained." – Marie Curie
I have a long standing interest in understanding how the brain develops and adapts to the world around it. I was trained as an electrophysiologist during my PhD where I explored the emergence of electrical activity in cortical neurons during development. For my postdoctoral work, I went on to expand my skill set to include molecular biology, mouse genetics, and calcium imaging to identify novel molecules important for synapse formation. When I'm not hard at work in the lab, you can find me exploring coffee shops throughout the city. 
Lily Zimmerman, Undergraduate Research Assistant
          Temple University, 2021
"Research is formalized curiosity. It is poking and prying with purpose." – Zora Neale Hurston
Hi! I am a Neuroscience major in the class of 2021 at Temple University. I have a strong interest in the intersection between science and the visual arts, particularly how scientific studies and data can be expressed via art. I believe that all people should be able to access scientific information in a way that is understandable, even if they lack a degree. In the lab, my goal is to learn the skills that will help me pursue a career in research. I make an effort every day to learn something new or explore a different facet of the research process. I plan to attend graduate school after obtaining my undergraduate degree to pursue a Ph.D. in Neuroscience.
InQ Hwang, Undergraduate Research Assistant
          Temple University, 2020
"Anything short of immortality is a complete waste of time." – Bender Bending Rodriguez
I am a biochemistry major in the class of 2020 at Temple University. I am fascinated by the brain; it is the least understood enigma. It tickles my soul when I dream about the unrestrained potential our brain possesses. But first, to access this potential, the simplest and most basic aspects must be understood. The greatest among us have discovered the simplest things. My goal is to be able to work alongside great men and women in understanding how our brain works and to leave my mark in history.
Mahad Shamsi, Research Assistant
          Temple University, 2018
"Bad times have a scientific value. These are occasions a good learner would not miss." – Ralph Waldo Emerson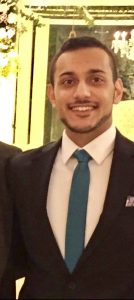 I am a recent graduate at Temple University with a Bachelor's degree in Biological Sciences. I have always had a fascination with the complexities of the brain and the myriad of undiscovered proteins and processes that function within it. I hope to master the skills that every molecular scientist should be able to perform in the lab, and obtain a stronger grasp on ways we can discover how and why our mind works the way it does. I hope somewhere along the way, I have contributed to finding answers that have the potential to change the world.