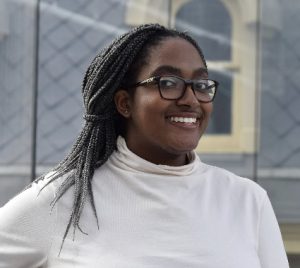 The Diary of Sandra Washington: A Lens into the World of the Philadelphia Black Panthers
View Ariana's project online
in Temple University Libraries' Digital Collections repository
About the Award in General Education:
This category honors exemplary work completed in a General Education Course at Temple University.

This award is generously sponsored by Gale, a Cengage company.
This submission was a final project for the fall 2019 Honors Dissent in America General Education course. It is in the form of an "unessay" project about the Philadelphia chapter of the Black Panther Party during its most active years. Composed of five diary entries, the reader dives into life from the perspective of a fictional character named Sandra Washington. She is a 14–15-year-old girl from North Philadelphia during the years 1969-1971. Sandra, an aspiring writer, is fascinated with the Party because of their uncompromising commitment to social justice and fighting for equality. 
There were initial concerns about finding sufficient articles specifically about the Philadelphia chapter to write the diary entries, due to COINTELPRO and lack of documentation of BPP activities from its members. Fortunately, the secondary sources used for these diary entries described Panther activities were well supported with sources and respected the legacy of the organization. This project hopes to shed light on an important part of Philadelphia's history and celebrate important community programs developed by its Panthers. 
What is your major and expected year of graduation?
I am a senior psychology major and Spanish minor, expecting to graduate in May 2020.
What inspired you to pursue your project? 
I completed this project as a final for my Honors Dissent in America class. We had the option to write a research paper or do a creative assignment. As a psychology major, I usually write research papers, so I wanted to take the opportunity to go outside of my creative comfort zone. I chose to write about the Black Panthers because I knew they had a great impact in the Philadelphia community, but I did not know any specifics, so this was a fun way for me to learn about the Black Panther Party.
What does winning this award mean to you? 
I'm proud to be receiving this award because having this work digitized allows for the legacy of the Black Panthers to continue on and not be forgotten. Winning this award also is a reminder to me that taking risks pays off because I had not formally written a fiction piece before.
How did the Libraries support your research?
Rebecca Lloyd, one of the research librarians, came to my class and showed us how to access and use the ProQuest Historical Newspapers database as a resource for our projects, which inspired the use of the city's newspapers as references in the diary entries. I also accessed all of the research articles through the online Temple library system and E-ZBorrow, so I do not think I could have completed this project without Temple Libraries.
It was a privilege to watch this project develop and come to fruition in the section of Dissent in America I taught. An accidental discovery while researching another potential topic led Ariana to an interview about the Black Panther Party in Philadelphia, and that unexpected turn inspired a very rich result. Although this diary is a creative project, it is grounded in methodical research and analysis. That research is exemplified both in the way that Ariana depicts changes in her character's outlook and in the way the diary captures nuances of the evolution of how the party was perceived in Philadelphia.
—David Mislin, Assistant Professor (Instructional) in the Intellectual Heritage Program