This fall, the Libraries wrapped up our year-long tribute to North Philadelphia with a diverse range of events and experiences. We're proud to report that our fall Beyond the Page programming reached an audience locally and beyond of more than 700, not including anyone who couldn't make it live and watched our recordings instead! Catch up on any programs you missed at library.temple.edu/watchpastprograms.
What made this past season of programming particularly special was that for the first time since March 2020, we were able to hold a few events in-person again. 
One popular event was a continuation of the Unedited Philadelphia series. As part of this series, Archivist John Pettit shares unedited footage from local news stations such as WPVI and CBS3/KYW, whose archives are housed in our Special Collections Research Center. For this year's screening, a live audience gathered in the Temple Performing Arts Center to view clips John chose showcasing North Broad Street. It was unique because we were watching clips from a location right on Broad Street, and a few of the clips even showcased the Temple Performing Arts Center! We also offered a concurrent livestream so that audience members could tune in from anywhere.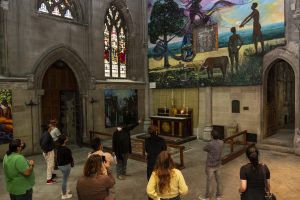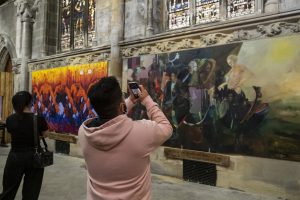 Another program that brought people together in person was a series of tours of Church of the Advocate, located at Diamond and 18th Street near Main Campus. In partnership with Temple's Office of Community Affairs, this program offered audience members an opportunity to learn more about this North Philadelphia landmark. Guests heard about the history and architecture of the church, the artwork on the walls, and even got a peek at behind-the-scenes areas including an upstairs office where the Black Panthers used to meet and the basement crypt.
On Zoom, we heard from Representative Malcolm Kenyatta about his memories growing up in North Philadelphia while Karen Warrington recalled the importance of the Ile Ife Black Humanitarian Center as part of the Charles L. Blockson Afro-American Collection's "We Remember and We Recall: North Philadelphia Oral History Project." The Blockson Collection also screened a series of films from Scribe Video Center's Community History Project, showcasing North Philly staples such as William Penn High School, Norris Homes, and Freedom Theater. 
Other Zoom highlights included programs about the Uptown Theater and the Urban Creators.
We also offered collaborative exhibits connected to our Made in North Philly theme, including Neighbors of North Philly, from Narrative Medicine program students at the Lewis Katz School of Medicine, and Explore Eastern North Philadelphia: Students and Community Engagement, by Professor Lynn Mandarano and students along with the SCRC.
We are grateful to our program partners, speakers, organizers, and audience who made our fall programming a success! Stay tuned for spring announcements.