Hilary Iris Lowe, Director (email|web) Hilary Iris Lowe is the Director of Temple University's Center for Public History and an assistant professor in the History Department.  She teaches courses in U.S. cultural history, public history, and American studies. Her current research seeks to understand how humans have used historic places and literary objects to connect with literature and the past.  She holds a Ph.D. in American Studies from the University of Kansas. Her first book, Mark Twain's Homes and Literary Tourism, was published in 2012 and is part of the Mark Twain and his Circle Series at the University of Missouri Press.  She and Jennifer Harris edited the collection From Page to Place: American Literary Tourism and the Afterlives of Authors (2017).  She is currently working on two long-term research studies, the administrative history of the John F. Kennedy National Historic Site and a monograph, Open House: House Museums, Gender, Sexuality, and Politics of Memory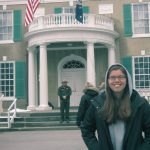 Joy Feagan (Blog)  I received my B.A. in History from New College of Florida in 2016. My undergraduate thesis focused on the role of media–especially film–in the promotion of consumerism in the post-WWII United States. I have interned at the National Museum of Nuclear Science & History, Mote Marine Laboratory's Arthur Vining Davis Library, the Historical Society of Sarasota County, and the Anna Maria Island Historical Society. My main historical interest is the 20th century United States, specifically the influence of media on memory-creation.
Abigail Gruber (Blog) Abigail is a first-year PhD student in the History Department at Temple University. She received her B.S.Ed. in Social Studies and M.A. in History from Millersville University in Lancaster County, PA. Her research interests include identity politics, loyalty, kinship networks, and illegal activities in eighteenth-century British America and the British Caribbean. She developed an interest in public history through a variety of volunteer experiences, most notably working as an intern for the National Museum of Bermuda in the summers of 2016 and 2017. Ms. Gruber is an inveterate Minnesota Vikings and Philadelphia Flyers fan, and in her free time she can likely be found loudly supporting her teams on game day.
William Kowalik (Blog) William Kowalik is a senior at Temple University in Philadelphia, studying American Studies and Art History. His areas of interest include American Architectural History and the history of the Built Environment, Preservation Planning, the impact of Historic Preservation, and Material Culture. He has worked with the Preservation Alliance for Greater Philadelphia, a nonprofit historic preservation advocacy organization since 2014. In the summer of 2016, he was an Intern with the Neighborhood Preservation Center in New York, where he created a self-guided walking tour of the East Village neighborhood during the Progressive Era. He is currently President of the Temple Undergraduate History and Social Sciences Association where he is also Editor-In-Chief of Perceptions, Temple's first undergraduate research journal. He is a proud member of numerous historic preservation related organizations.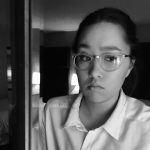 GVGK Tang (Blog) I graduated summa cum laude from Temple in 2017 with a B.A. in history and sociology, and a minor in LGBT studies. I specialize in transnational queer history and politics, nascent community-building, and identity construction. I have interned at the Historical Society of Pennsylvania, curating "'One Manly Soul': White Masculinities in Late Colonial America" in collaboration with the Digital Paxton Project. With historian Jonathan Ned Katz, I developed a web-based timeline of queer activism for OutHistory.org. I have presented work at the National Council on Public History and Philadelphia Asian American Film Festival. My article "'Sex in the Archives': The Politics of Processing & Preserving Pornography in the Digital Age" is forthcoming in the journal The American Archivist.  Employer: the John J. Wilcox, Jr. LGBT Archives and Temple's Office of IDEAL 
2016 Team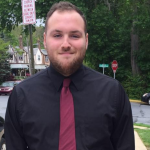 Derek Duquette (blog).  I received a dual degree in History and German from West Chester University in 2016.  My thesis looked at religion's differentiating role in the early 20th Century American and British versus German eugenics movements. I interned with the Pennhurst Memorial and Preservation Alliance and the Elwyn School, creating and adding to their archives and finding aids respectively, and writing grant proposals for the latter's future endeavors. My professional interests include archival preservation, American history of disability, and more broadly American history of oppression. Internship: National Park Service: Northeast Regional Office
Derek Engle (blog).  I studied at James Madison University, where I completed my BA in History. I am primarily interested in the French and Indian War, the art and science of fortification, and material culture. I also like classical Greece and Greek warfare. I interned at the America on Wheels Museum in Allentown and at the Lisanby Museum at JMU, where I researched and classified unknown objects in the collection. Internship: Valley Forge National Historical Park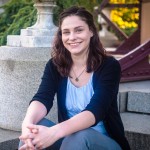 Cynthia Heider (blog).   I received my B.A. in History from Goucher College. My work and internship experiences at the Maryland State Archives, Towson University Special Collections and Archives, and Preservation Maryland have centered on increasing the accessibility of primary source materials. I enjoy working with the public and volunteer as a visitor services assistant at the Smithsonian National Museum of American History. My areas of interest include urban history as well as digital initiatives in history and the humanities. Internship: American Philosphical Society's Martin L. Levitt Fellow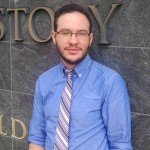 Charlie Hersh (blog).  I received my BA in Religion from Temple in 2015, where I also earned a Certificate in Spanish. I currently work in the Education Department at the National Museum of American Jewish History, where I coordinate a school program about Eastern European immigration to the US at the turn of the 20th century. I love finding different ways to connect students with history, especially through non-dominant narratives and object-based learning.  Internship: African American Museum in Philadelphia; Currently working at the National Museum of American Jewish History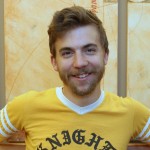 Ted Maust (blog).  I earned a B.A. in History and English at Goshen College (Ind.), writing my thesis on John F. Funk, a Mennonite entrepreneur and newspaperman in Civil War-era Chicago. I've interned as a Wikipedian, worked on a digital library with a professor, and worked for 4 years at the Wisconsin Historical Society Press, working in a variety of roles including textbook editor. My academic interests (in addition to Public History) are Mennonite/Anabaptist History, East African History, and cultural criticism.  Internship: Philadelphia Society for the Preservation of Landmarks; Currently working at Eastern State Penitentiary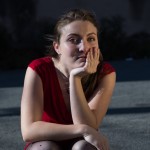 Chelsea Reed (blog).  I received a dual degree in American Studies and Jazz Vocal Performance from Temple University in 2015, where I wrote my thesis on the South Philadelphia jazz club scene in the mid-20th century. I manage my own bands, while singing for other ensembles in and around Philadelphia. I'm also an Educator/Interpreter at the Colonial Pennsylvania Plantation in Newtown Square and in Spring of 2016, I interned at the American Philosophical Society as a Digital Research Assistant. I'm especially interested in combining music and history in educational outreach and using public history as a means of community collaboration within the city of Philadelphia.  Internship: National Archives at Philadelphia; Currently working at the American Philosophical Society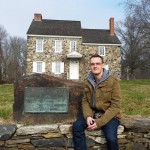 John E. Smith (blog).  In May 2016 I graduated from West Chester University where I earned my B.A. in Political Science and History. During my time at West Chester, I worked on the award-winning Goin' North project and frequently wrote for ExplorePaHistory. I also interned at Brandywine Battlefield Park in Chadds Ford, Pa and Valley Forge National Historical Park. My research interests include 19th century U.S. political history, social movements, digital history, and memory. Internship: Art at the Airport, City of Philadelphia; Currently working at Temple Library's Special Collections Research Center