"How do children play with online puzzles?"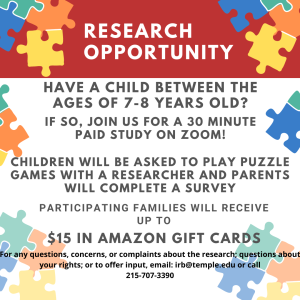 This is a two-session study including one online parent survey (15-20 minutes), and one Zoom session with children (30 minutes). Children will play several puzzle games with the experimenter on Zoom.
Participants receive a $5 Amazon gift card for the survey and a $10 Amazon gift card for the Zoom session. 
Sign up to participate here: https://redcap.link/TUCLResearch