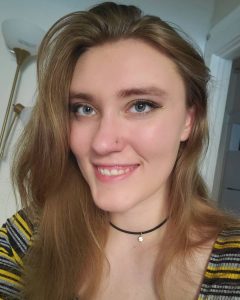 Graduate Student
Temple University
Cognitive Neuroscience Laboratory
Expected Graduation: May 2025
Ongoing Projects:
Social Cognition in Younger and Older Adults
Language Processing in Mild Cognitive Impairment
The Neural Basis of Curse Words
Research Interests:
White matter development and changes in various populations (MCI, AD)
How structural connectivity mediates high-level vision, memory, and cognition
Future Plans: 
Katie hopes to continue her research in social cognition, parsing out the role that the cerebellum has in conjunction with the cerebrum on correcting social behavior. She is also interested in investigating that change in feedback as we age.
About Me:
Katie Jobson is a Research Assistant at the Cognitive Neuroscience and Aphasia Rehabilitation Research laboratories at Temple University. She graduated from Arcadia University with a B.A. in Psychology, and then went on to earn her M.S. in Neuroscience from Temple University. She is now pursuing a Ph.D. in Psychology and Neuroscience here at Temple. She enjoys reading, working out, and trying new restaurants in Philadelphia.